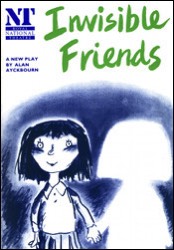 To navigate, use the links in the bar above or to the right.


World Premiere:
23 November 1989

Venue:
Stephen Joseph Theatre In The Round, Scarborough

London Premiere:
13 March 1991

Venue:
The Cottesloe, National Theatre, London


Play Number:
38

Published:
Samuel French
,
Faber
Short Synopsis:
When Lucy's imaginary friend Zara becomes all too real and offers to make her family disappear, Lucy is all to happy to agree. But when Zara's much worse family appears in their place, Lucy has to deal with the consequences of her actions and find a way to bring her own family home.


Availability
Amateur:
Apply to
Concord Theatricals
.

Professional:
Apply to
Casarotto Ramsay
.


Invisible Friends
quote

"I made up Zara. She's my special friend that no one can see except me. Of course, I can't really see her either. Not really. Although sometimes I… It's almost as if I could see her, sometimes."
All research and original material in the Invisible Friends section of Alan Ayckbourn's Official Website is by Simon Murgatroyd M.A. and copyright of Haydonning Ltd. All other material is copyright of the named copyright holder. Please do not reproduce any material without permission of the copyright holder. For enquiries, email: archive@alanayckbourn.net